Douglas Fir
Douglas fir is a soft wood, however it is considered durable enough for building, used as timber in framing. It has a distinctive grain pattern with wavy lines, burls, knicks,and knots. Douglas fir has a Janka value of 620 lbf.
Knotty Alder
Alder dries to an even honey tone and can be finished to resemble more expensive fine-grained species. There is little color variation between the heartwood and sapwood, making alder also ideal for light or natural finishes. Alder's popularity continues to grow amoung furniture enthusiasts. Alder has a janka rating of 590 lbf.
Ash
Ash is a light colored, smooth-grained hardwood. With its typical straight grain and beige-to-light-brown hue, ash wood is a very attractive option for fine furniture. It's one of the most durable varieties and has an extensive history in American furniture making. It is durable, lightweight, aesthetically pleasing, and absorbs wood stains well. Its characteristics as a lightweight and shock-resistant wood have made it a favorite. Ash has a janka rating of 1320 lbf.
Red Oak
A piece of natural oak wood can take on virtually any hue; from light beige through brown and rosy in color. Oak wood's light coloring makes it a great candidate for staining, creating a rich, even saturation. Oak is easily recognizable by its long ray-like grain pattern. Red oak is strong and durable with a Janka value of 1290 lbf.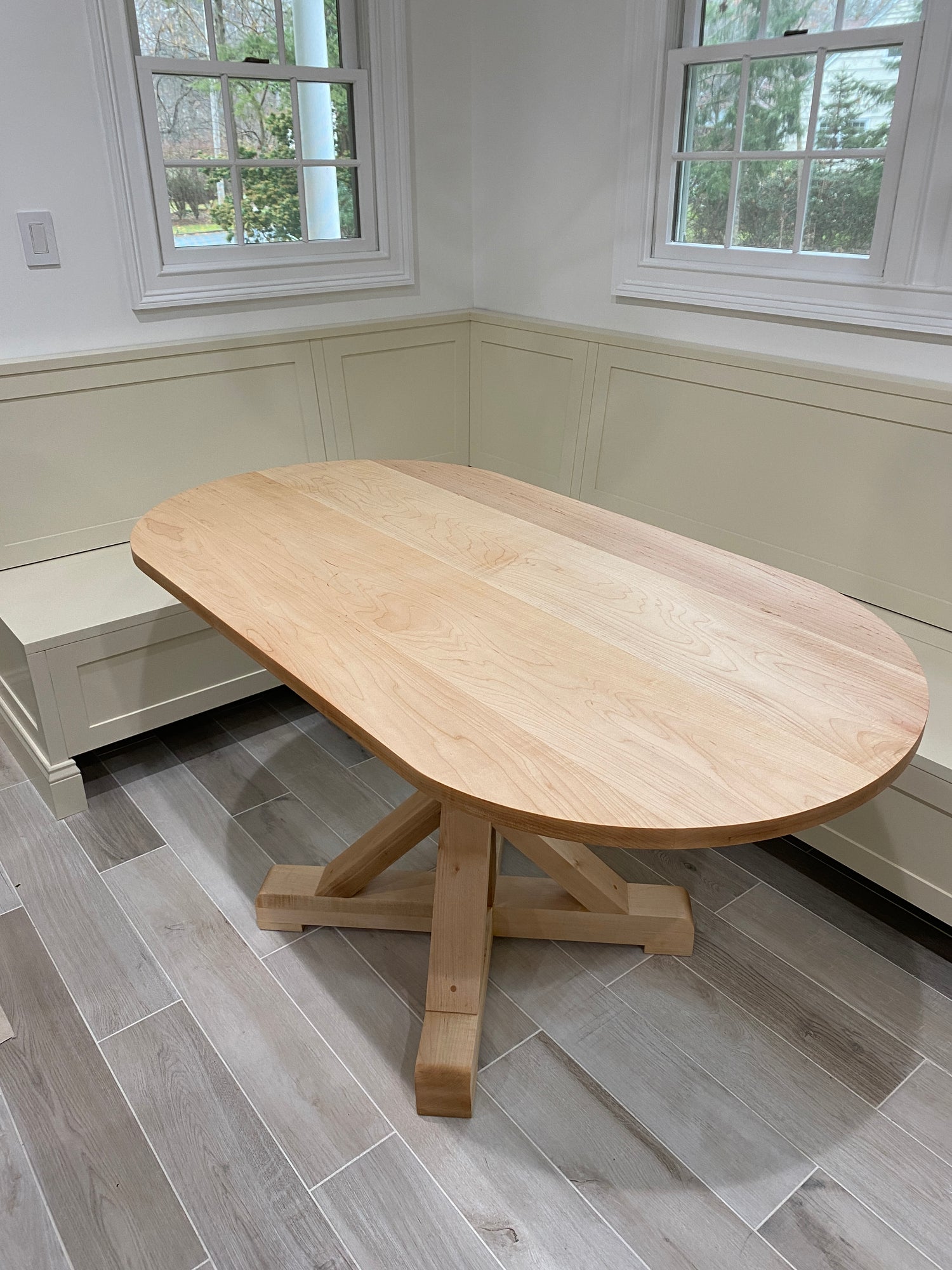 Maple
Maple is typically white with a slight reddish-brown tinge. Maple is heavy, strong, stiff, hard, and resistant to shock.  It has a fine, uniform texture with generally minimal grain patters, with straight grain. Maple does best when stained lighter colors, and due to its tight grain can have varied saturations in stain, especially when stained darker colors which can look uneven and blotchy. We do not recommend staining or painting maple as it has a beautiful light color which looks best when simply oiled. has a Janka value of 950 lbf.
White Oak
White Oak is a premium hard wood. Durable and tough. Light to medium brown tones and may have a slight olive case in some lighting, a straight grain pattern, and coarse texture. We do not recommend staining or painting white oak as it has a beautiful color which looks best when simply oiled. However, it does look beautiful when slightly tinted hard wax is applied if you're looking for a more creamy light or gray cast to the wood. White Oak has a Janka value of 1450 lbf.
Walnut
American black walnut is the only dark North American wood. It's prized by woodworkers for it's strength, grain and color which is a rich chocolate brown– with occasional purple tones. Black walnut wood is dark, hard, dense and tight-grained. It polishes to a very smooth finish and the color ranges from creamy white in the sapwood to a dark chocolate color in the heartwood. We do not recommend staining or painting walnut as it has a beautiful color which looks best when simply oiled. Walnut has a Janka value of 1010 lbf.