South Plank House
Maple and Walnut square coasters
Regular price
Sale price
$25.00 USD
Unit price
per
Sale
Sold out
These beautiful coasters are meticulously crafted to provide a blend of functionality and natural elegance. Each coaster showcases the rich tones and unique grain patterns of walnut wood, adding a touch of sophistication to your tabletops while protecting them from unsightly water rings.

Our Process:
________________

Crafted with care, our walnut coasters undergo a meticulous process to ensure exceptional quality and aesthetic appeal. Here's a glimpse into our process:

1. Premium Walnut Wood Selection:
We hand-select the finest walnut wood, known for its durability, beauty, and rich color variations. This careful selection guarantees that each coaster displays the captivating natural patterns that make walnut wood truly unique.

2. Precision Craftsmanship:
We shape, sand, and finish each coaster by hand, paying meticulous attention to detail. The result is a set of coasters that exude elegance and sophistication, with smooth edges and a velvety-smooth surface.

3. Protective Finish:
To enhance the longevity and beauty of our coasters, we apply a food-grade, protective finish. This finish not only adds a subtle sheen but also safeguards the walnut wood from moisture, ensuring the coasters' longevity and maintaining their stunning appearance.

The Perfect Gift:
___________________

Searching for a memorable gift for a housewarming, wedding, or special occasion? Look no further. Our walnut coasters make the perfect gift. Here's why:

1. Natural Elegance:
Handcrafted from beautiful walnut wood, these coasters add a touch of natural elegance to any home décor. Whether placed on a coffee table, dining table, or desk, they make a stunning visual statement and complement a variety of interior styles.

2. Practical Protection:
Our coasters are not only beautiful but also highly functional. They provide a sturdy and stylish barrier against beverage condensation, protecting your furniture from unsightly water rings and stains. Let your guests admire their drinks while you enjoy peace of mind.

3. Thoughtful and Versatile:
These coasters are suitable for any occasion, making them a thoughtful and versatile gift. Whether for a wine lover, coffee enthusiast, or someone who appreciates fine craftsmanship, these coasters are sure to impress and be cherished for years to come.


Set Quantity:4
Materials: Solid Walnut Wood
Finish: Food-grade protective finish
Dimension: 4"x4"x.25"


Note: Each coaster is handcrafted, and due to the natural variations in wood, the product you receive may slightly differ from the product images.

Explore our shop for more handcrafted wooden creations: 


*Disclaimer: All product descriptions and images are for illustrative purposes only. The actual product may vary slightly due to natural variations in wood.
Share
Materials

Meticulously selected hard woods

Food grade mineral oil and wax
Care & Maintenance

-Wood housewares are sealed in a 0% VOC food safe mineral oil to protect against use and water.

- use a damp (water or water with a mild dish soap) microfiber cloth to clean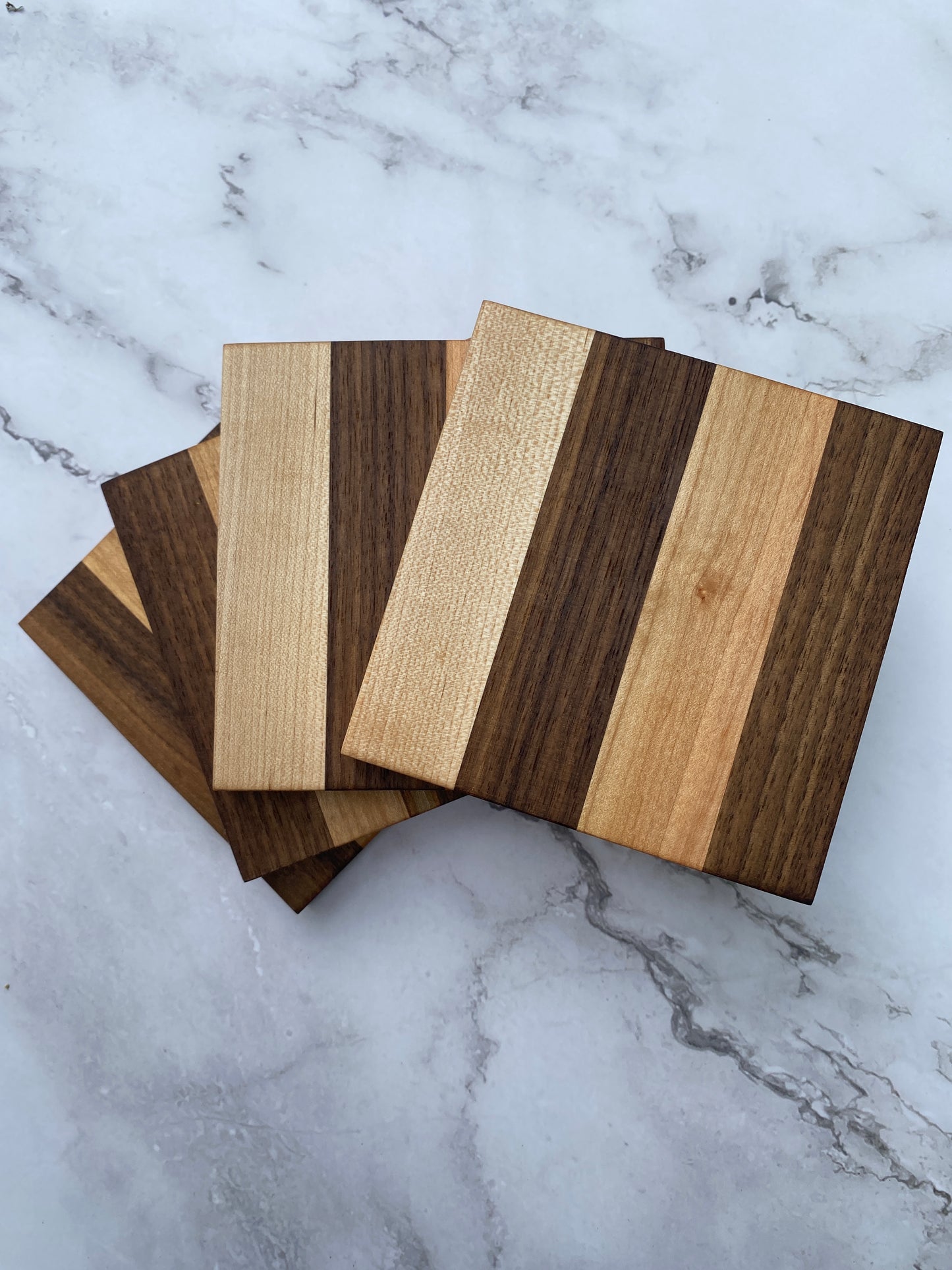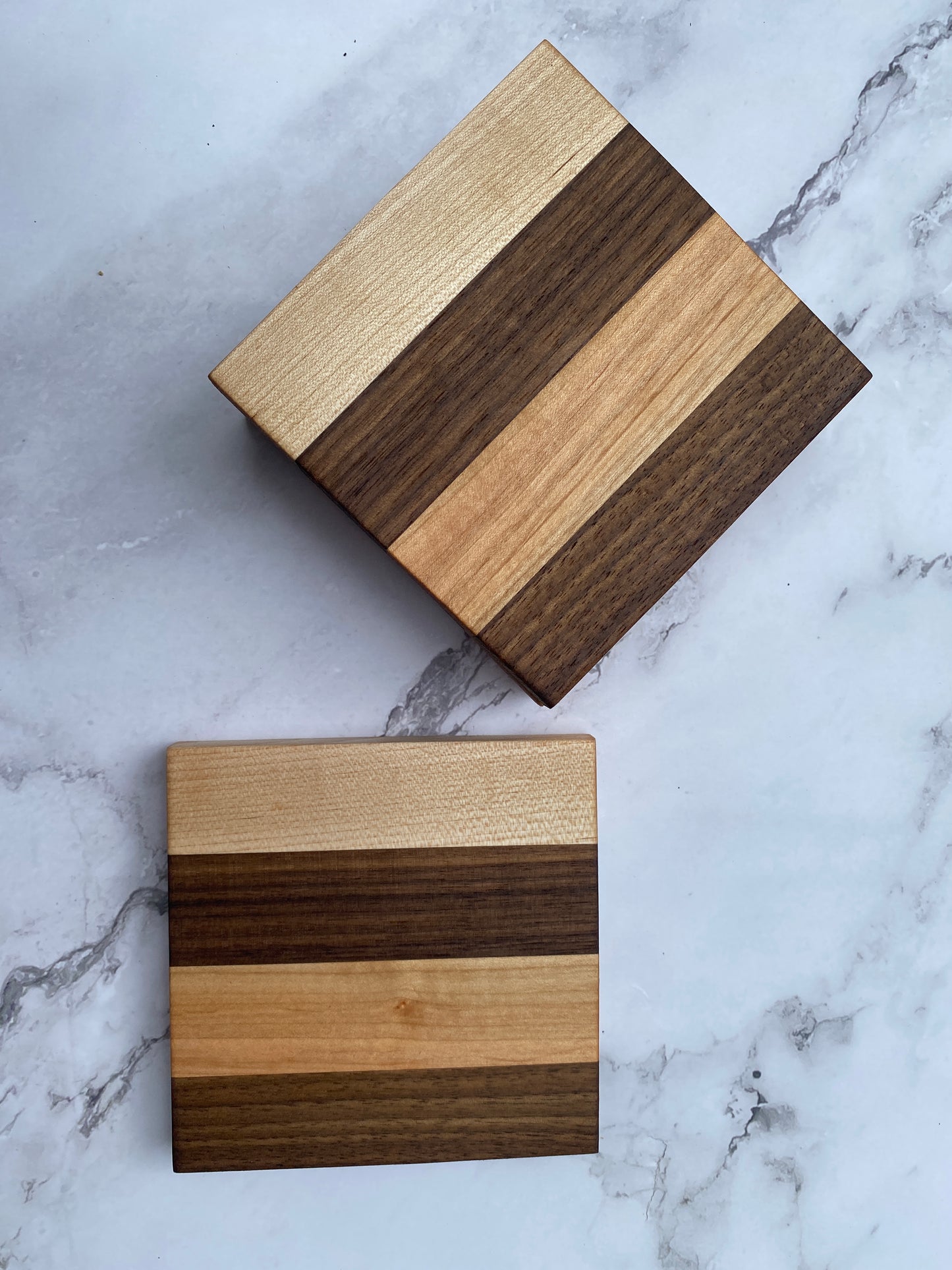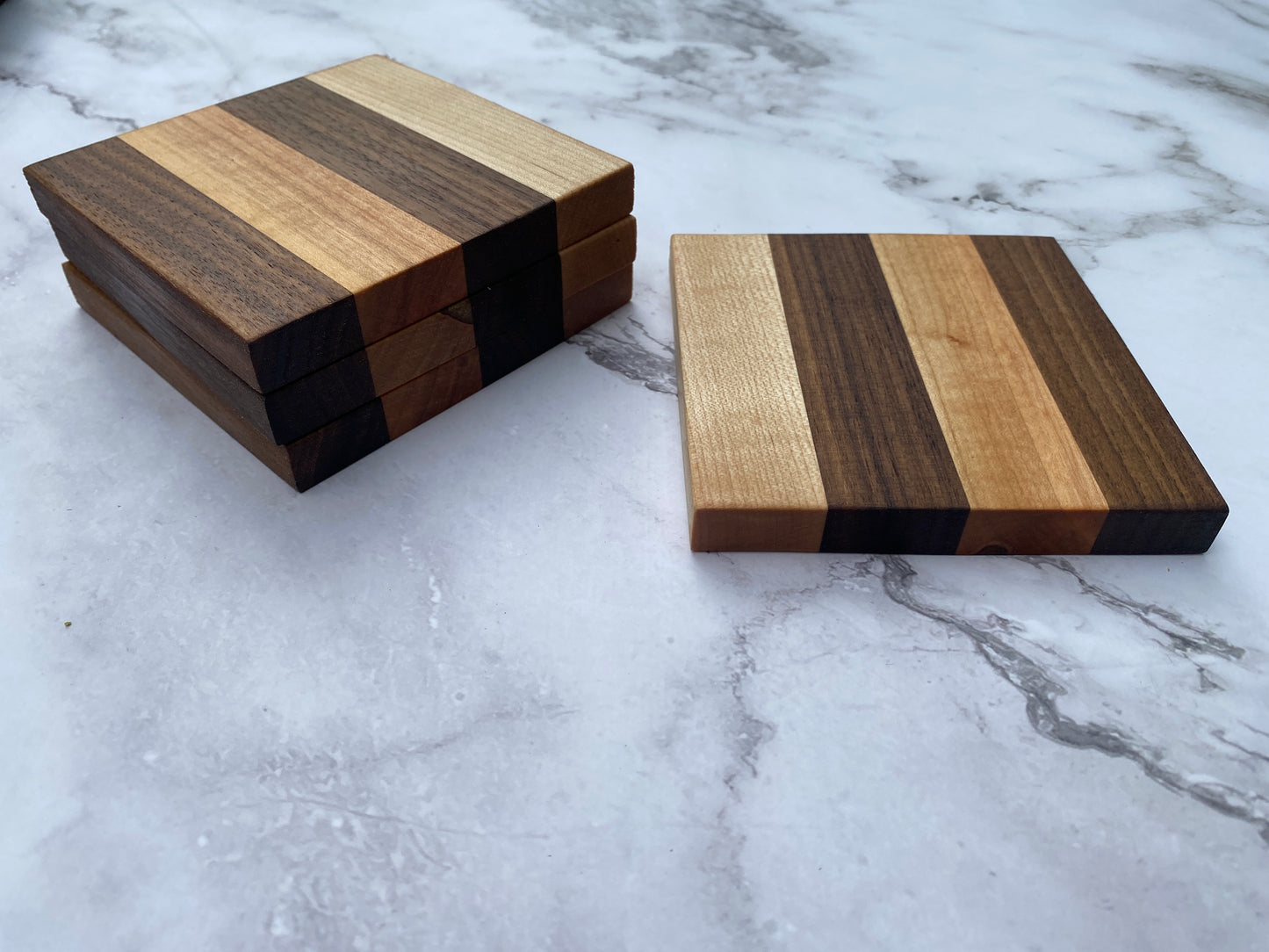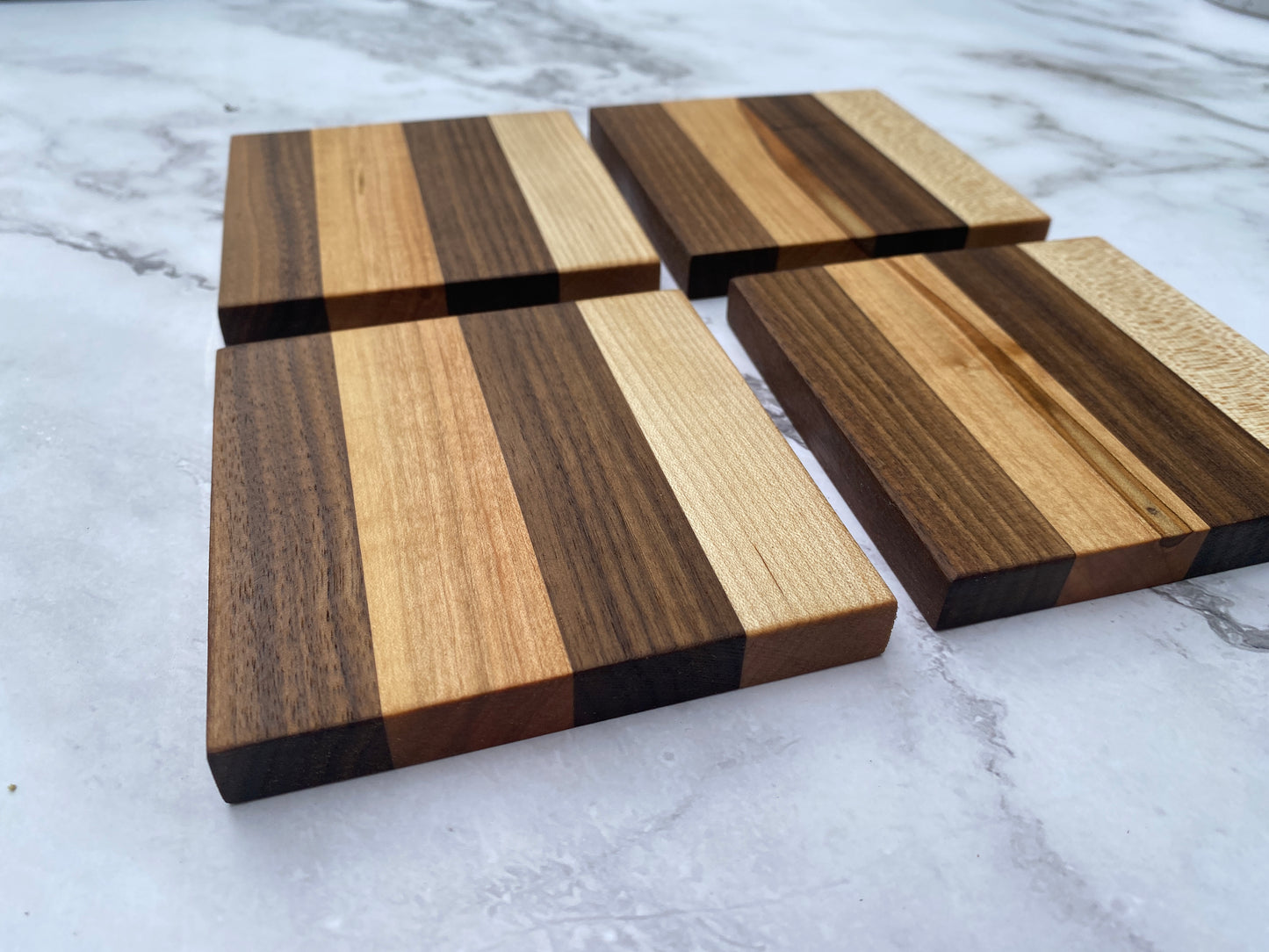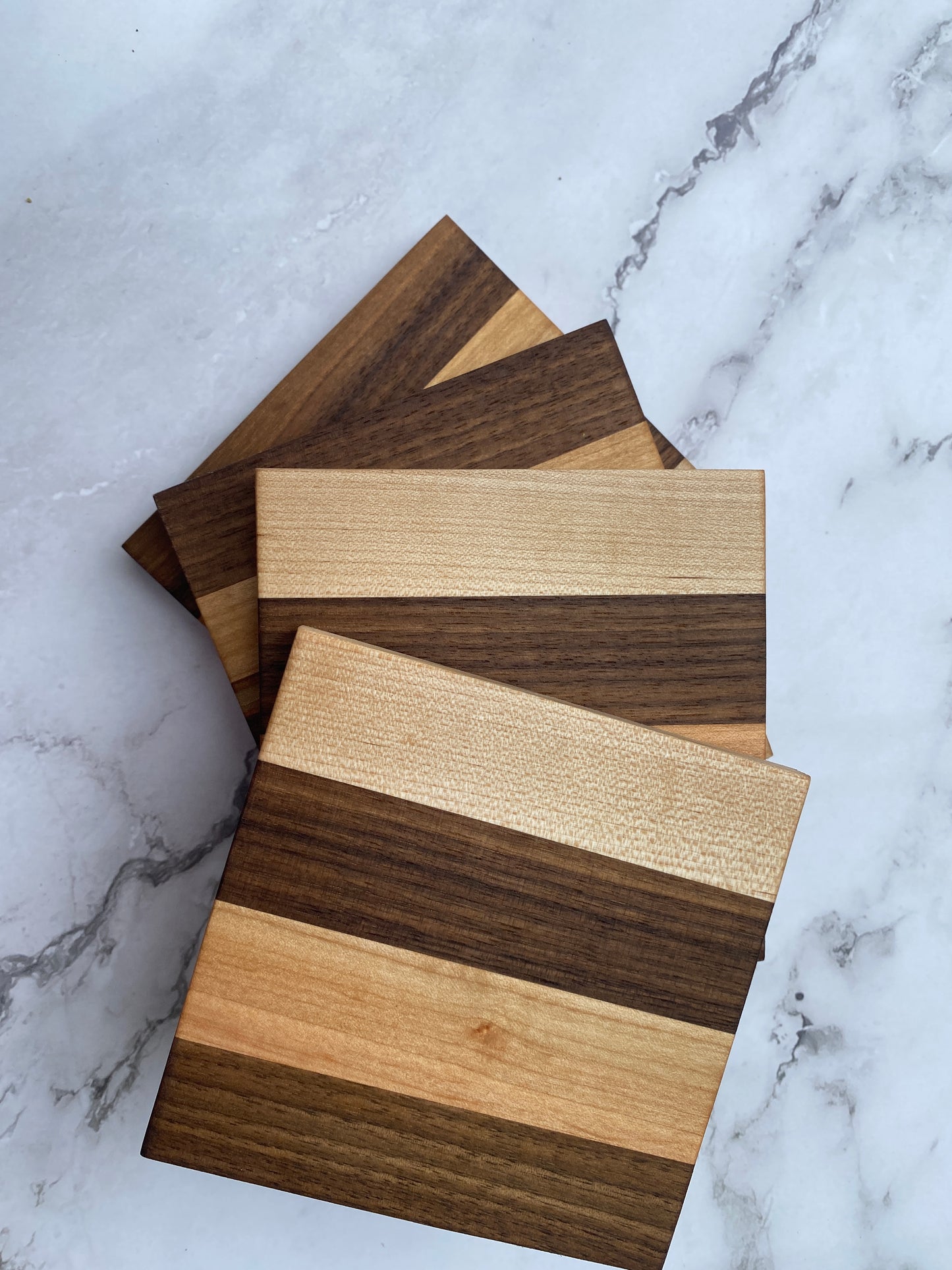 Don't See What You're Looking For?
Request an estimate for custom furniture. We can replicate styles from inspiration photos and sketches!
Start Here